6839 E. Broad St.
Columbus, OH 43213
Next to Giant Eagle

(614) 860-1133
Open Today Until 6:00 pm
| | |
| --- | --- |
| Monday | 10:00 am - 6:00 pm |
| Tuesday | 10:00 am - 6:00 pm |
| Wednesday | 10:00 am - 6:00 pm |
| Thursday | 10:00 am - 6:00 pm |
| Friday | 10:00 am - 6:00 pm |
| Saturday | 10:00 am - 6:00 pm |
| Sunday | 12:00 pm - 5:00 pm |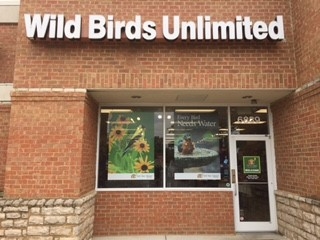 Julie and Larry Baldwin Franchise Store Owners
View Our Store Site
Nesting SuperBlend™
The Season's SuperFood for Your Birds
During nesting season, bird moms need all the energy they can muster. You can help by filling your feeders with Nesting SuperBlend™ available exclusively from Wild Birds Unlimited. There isn't anything on the market that compares to our new Super Foods. Packed with essential protein and calcium.
Did you know that bird feathers contain 90% proteins? Protein also helps determine the number of eggs produced and impacts the growth rate of young. How important is protein? Very.
Our Nesting SuperBlend provides birds a super-boost of the protein and calcium needed as they build a nest, lay eggs, raise their young, and go through their post-nesting molt.
We have plenty of our Nesting SuperBlend in 7# bags and 20oz cylinders in stock. We are ready for Spring as most of you are.
We are tracking hummingbirds again this year. Find out where they are from us. Get your feeders ready. Shop now for supplies to clean your feeders, for nectar and for nesting material.
Now is the time to prepare your bird houses, too. Repair or replace old, broken houses. Clean out old nesting material. Buy fresh material from us.
Shop our store to learn how you can make life a little easier for birds this season. And how you can attract more beautiful birds to your backyard.
Thank you for your business.
ST. PATRICK'S DAY SALE MARCH 15, 16, 17, 2019. SAVE 17% ON GREEN MERCHANDISE IN THE STORE. BIRDFOOD IS EXCLUDED. MERCHANDISE MUST BE GREEN. INCLUDES FEEDERS, HOUSES, GARDEN ITEMS, GIFT ITEMS, CARDS, MUGS ETC.
---